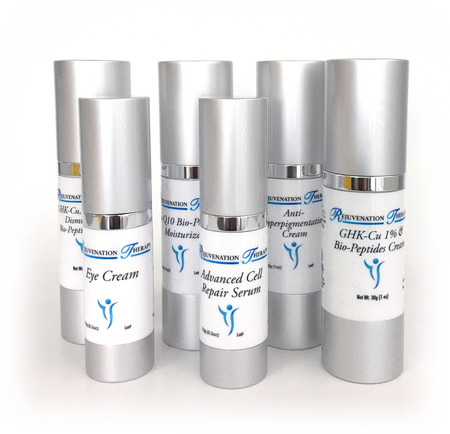 Anti-Aging Skin Care Products
Promise Pharmacy's skincare products are custom-compounded and provided in attractive airless pumps to protect product.
Anti-Hyperpigmentation Cream – Use at night to fade age spots and even out skin tone. Contains Hydroquinone/Tretinoin/Kojic Acid/Hydrocortisone, available in several strength combinations.
Tretinoin with Co-Q 10 Cream – Improves appearance of skin, promotes exfoliation & cell renewal. Available in several strengths.
Co-Q 10 with Bio-Peptides – Helps to build collagen and reduce the appearance of fine lines and wrinkles. Co-Q10 is a strong antioxidant that helps increases blood flow, neutralizes harmful free radicals.
Eye Cream – This effective, gentle cream contains Bisabolol/Chrysin/Vitamin K/Green Tea/Caffeine. Reduces puffiness, and dark circles, soothes and calms delicate under-eye skin.
Advanced Cell Repair Serum - Antioxidant multi-purpose serum is excellent for hydration; it stimulates and supports collagen, enhances firmness and elasticity. Contains Ascorbic Acid, Sodium Hyaluronate, Palmitoyl Tripeptide-5, Palmitoyl Pentapeptide-4, Estriol.
Anti-Aging Toner Cleanser – Contains DMAE and Panthenol. Gentle cleansing foam lubricates, hydrates, soothes inflammation.
GHK-Cu Copper (copper tri-peptide-1) – Naturally occurring human tri-peptide is highly effective as a reparative and anti-aging ingredient. Can help tighten skin, improve elasticity, reduce fine lines, wrinkles, photo-damage and hyper-pigmentation. Available formulas:
GHK-Cu Copper w/Bio-Peptides Cream • GHK-Cu Copper w/ Bio-Peptides + Co-Q10 Cream • GHK-Cu Copper Topical Foam
Numbing Formulations for Aesthetic Procedures
Promise Pharmacy can compound a variety of topical numbing agents to help minimize pain experienced by patients undergoing these procedures. For dermal fillers and procedures:
BLT – Benzocaine/Lidocaine/Tetracaine for numbing large areas, available in several strengths.
Rapid-Numbing Formulation – Lidocaine/Tetracaine combination for rapid numbing of small areas, available in several strengths.
Post-Procedure Cream – Gentamicin/Prilocaine/Lidocaine/Hydrocortisone/Zinc Oxide, relieves pain and inflammation, helps protect treated skin from bacterial infection, UV exposure.
In Office Peels
Estheticians and practitioners, Promise Pharmacy makes highly effective, custom-compounded prescription peels for in-office use that provide superior results to OTC products– please contact us to learn more!
Dermatological Compounds
Promise Pharmacy can compound topical treatments for a variety of dermatological disorders including Acne, Warts, Actinic Keratosis/Neoplasia, Porokeratosis, Melasma and more. Please contact us for more information.